Michael Badial, CBCC-KA, CPDT-KA
Co-Founder | Certified Dog Behavior Consultant  |  Certified Dog Trainer  |   Director of Behavior & Training
Michael's love of dogs and dog behavior started in his childhood when he could be found spending hours a day with his Rottweiler/Shepherd mix, Mariah. As he traveled the neighborhood with friends, Mariah was never far behind.
While working as a meter reader in California, Michael was faced daily with dogs in yards that wanted to attack and defend their property. Wanting to be efficient and safe at his job, he learned ways to put the dogs at ease and train them to trust him.

After moving to PA in 2006, he managed a busy 200+ run dog kennel. This invaluable time spent observing dog behavior gives him incredible insight into how dogs communicate not only with each other but also with us.
Using his experience rehabilitating an aggressive Mastiff mix he inherited when he moved, Michael began a rescue dedicated to re-training aggressive dogs. It was during this time that Michael met Jamie when they worked together on a 5 month old fear-aggressive German Shepherd Dog named Holly who they later adopted and became a great companion to their kids.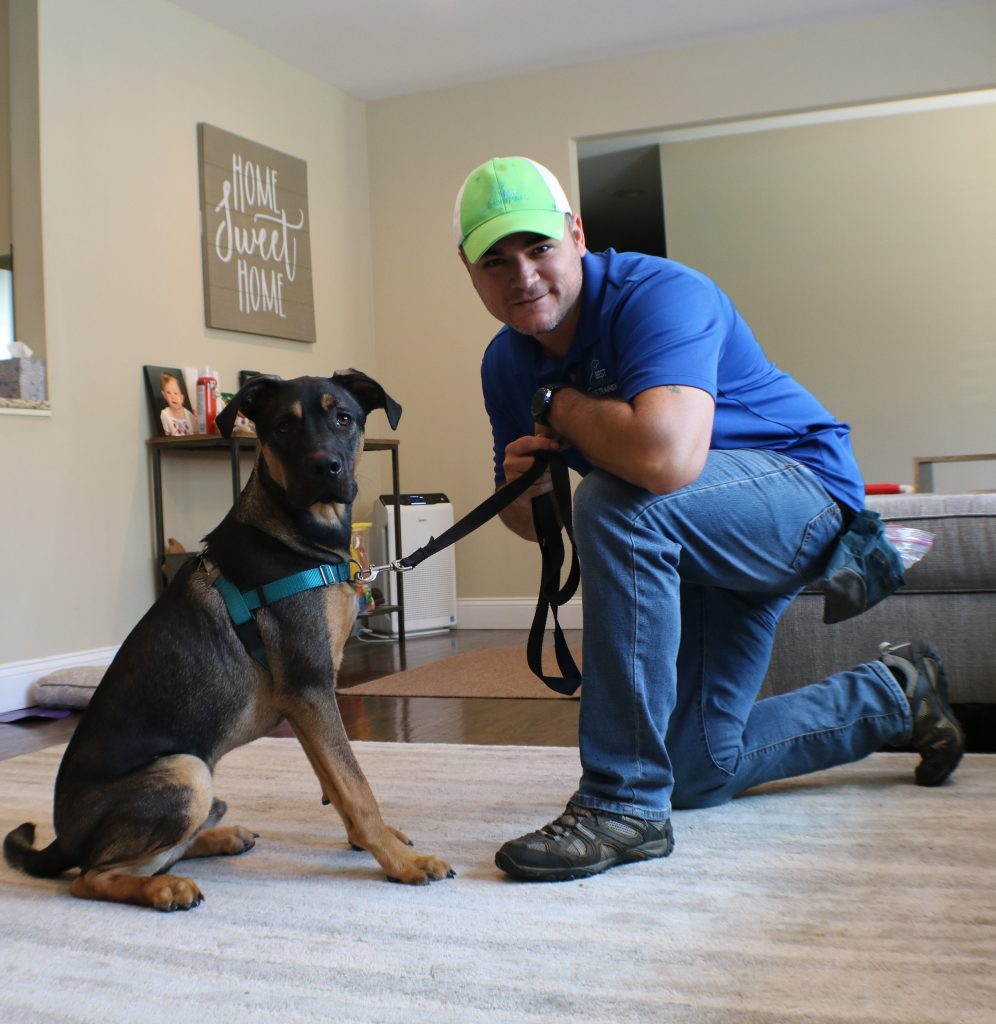 This began his career in dog training and sent him on the path to becoming dual certified as a Certified Behavior Consultant (CBCC-KA) and a Certified Dog Trainer (CPDT-KA).  With over 15 years of experience training dogs, Michael still continues his education daily and takes great pride in mentoring up and coming new trainers. He's a mentor for both Catch Trainers Academy and Animal Behavior College. 
Michael has also been an instructor for Fenzi Dog Sports Academy's Pet Professional and Pet Dog Training programs and has a course availble on their website: My Dog is Aggressive! Or is it play?
Michael currently serves as a Staff Sergeant in the PA Army National Guard and when he is not serving his country or training dogs, he coaches baseball, sings at the top of his lungs and spend time with his family which includes two kids, 2 dogs and a cat.